Programme held on 15 July 2015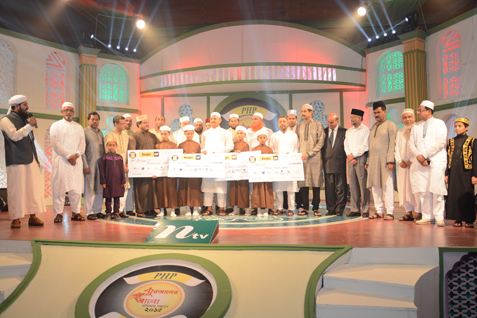 Hafiz Zobayer Ahmed has won this year's 'PHP Quraner Alo', the biggest television-based Quran memorisation competition of the country.
In the competition, Hafiz Hamidul Islam, Shahidul Islam Misbah and Abdur Rahman have secured the second, third and fourth position respectively.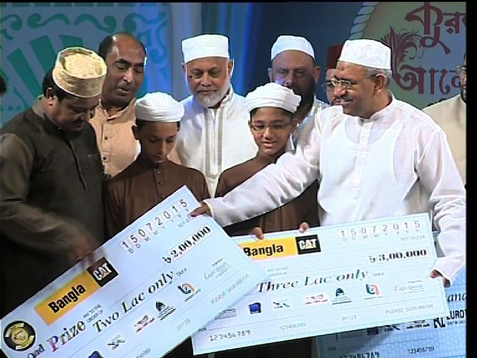 The grand finale of the competition was held on Wednesday at the capital's Hotel Sonargaon. NTV aired the programme live.
The winners were handed down their prizes by NTV chairman and managing director Mohammad Mosaddak Ali and PHP executive director Mohammod Mahfuzur Rahman Bhuiyan.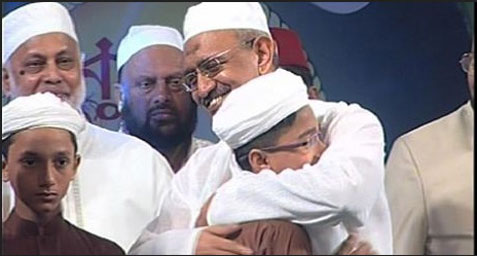 'PHP Quaner Alo' winner will receive Tk 3 lakh as prize money and have the opportunity to perform Omrah along with his teacher, who coached him in memorising the Holy Quran.
The second and third placers will get Tk 2 lakh and Tk 1 lakh respectively, while the fourth winner will receive Tk 50,000 as prize. Besides, visually impaired contestant Hafiz Kalim Siddique has been nominated for special award.
About 30, 000 little contestants from home and several countries of the Middle East participated in the competition that continued throughout the month of Ramdan.