Programme held on 15 March 2017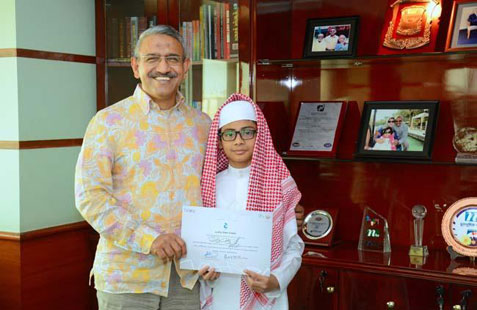 Hafiz Yakub Hossain Taj, winner of PHP Quaner Alo 2016, the biggest television-based Quran memorisation competition of Bangladesh aired on International Television Channel Limited (NTV), has crossed country's boundary and achieved global recognition.
The 10-year-old Quran memoriser bagged the second position among competitors from 28 countries in the International Hifzul Quran Contest, which was held in Qatar.
Earlier, Hafiz Yakub Hossain secured the fifth place among the contestants of 96 countries in the same contest in Saudi Arabia.
NTV Chairman and Managing Director Alhaj Mohammad Mosaddak Ali on Wednesday congratulated Yakub Hossain and prayed for his bright future.
Hafiz Yakub also expressed his gratitude to NTV for giving him a platform and asked his country people to pray for him.
Yakub Hossain urged people to pray for him so that he can be a great Alem in future.
He also seeks prayers for his teacher.
The young Quran memorizer also invited children to participate in PHP Quraner Alo that will be started very soon.
He said, I wish and pray you will do better than me.