Programme held on 26 September 2010
International Television Channel Limited (NTV) Chairman and Managing Director Al-haj Mohammad Mosaddak Ali distributed prizes among the winners of Marks All-rounder 2010, a talent hunt contest, at a star-studded grand finale at the Bangabandhu International Conference Centre in Dhaka on 26 September 2010.
Ramisa in primary category, Pranab in junior secondary and Bipa in secondary category triumphed the crowns of the Marks All-rounder 2010.
Marks All-rounder was held across the country with a view to providing a platform for the school students to boom their talents. The contest was sponsored by Marks Full Cream Milk Powder, a product of Abul Khair Group.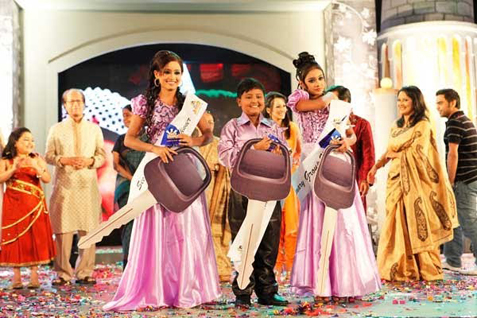 While addressing the programme Mosaddak Ali said every child is unique in his or her right and Marks All-rounder contest was a platform for the youngsters to explore their ingenious and artistic characteristics.
Abul Khair Group Brand Director Noushad Chowdhury, among others, attended the grand finale.
Noted actresses Rumana Rashid Eshita, Nusrat Imroz Tisha, Tareen and musician Habib Wahid were present as judges at the final stage of the contest. NTV telecast the grand finale live.
Marks All-rounder 2010 gala round ended with a pledge to further encouraging talented youngsters.
The top three received a car each. Each of the four runners-up of the grand finale was awarded scholarships of Tk 1 lakh. Other prizes in different categories include 100 computers were distributed among schools, 42 gold, silver and bronze medals and numerous other attractive prizes were handed over to the winners of every round held in regional and national level.
Marks All-rounder was first organised in 2008. The initial response and overwhelming enthusiasm from participants, guardians and schools made it possible to organise the event throughout the country again in 2009 and 2010.
The 100 best contestants were nominated for regional round. Then, 26 winners were selected for Theatre round. A total of six contestants were selected finally from three groups participated in the grand finale.