Programme held on 02 May 2017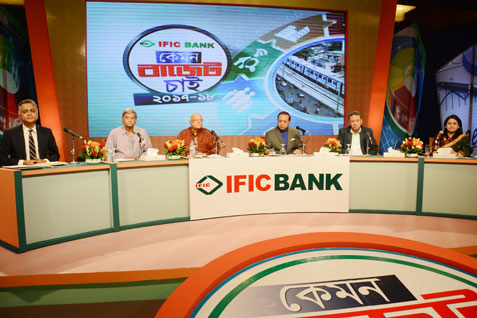 'Kemon Budget Chai' (the budget we want), a pre-budget view exchange programme, jointly organised by International Television Channel Limited (NTV) and the Federation of Bangladesh Chambers of Commerce and Industry (FBCCI), took place for the tenth consecutive year.
The programme, which began at 4:00pm on May 2 (Tuesday) at Pan Pacific Sonargaon Hotel in Dhaka, aired live on NTV, and also broadcasted live on its digital platform NTV Online (ntvbd.com), Facebook page and Youtube channel . FBCCI President Abdul Matlub Ahmad anchored the programme.
Attended by Bangladesh Finance Minister Abul Maal Abdul Muhith and other top personalities of country's business community, 'Kemon Budget Chai' features the exchange of views on the budget of the current fiscal year.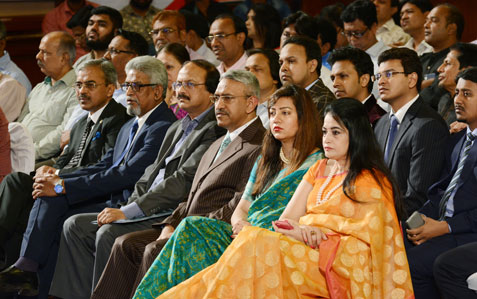 Speakers at the programme expressed their ideas and views about the next budget of fiscal year 2017-2018, with the minister answering queries of the audience.
State Minister of Finance Abdul Mannan, former Commerce Minister and BNP standing committee member Amir Khasru Mahmud Chowdhury, former Metropolitan Chamber of Commerce and Industries (MCCI) President and Apex Footwear Managing Director Syed Nasim Manzur and Centre for Policy Dialogue (CPD) Executive Director Dr Fahmida Khatun were present as special guests.
National Board of Revenue (NBR) chairman Najibur Rahman, NTV Chairman and Managing Director Alhaj Mohammad Mosaddak Ali and Bangladesh's eminent economists, researchers, businesspersons and chamber leaders, among others, were also present in the programme.
FBCCI President Abdul Matlub Ahmad anchored the programme for the second time. Earlier, former presidents of FBCCI—Annisul Huq, AK Azad and Kazi Akram Uddin Ahmed—anchored the programme.