Programme held on 20 April 2017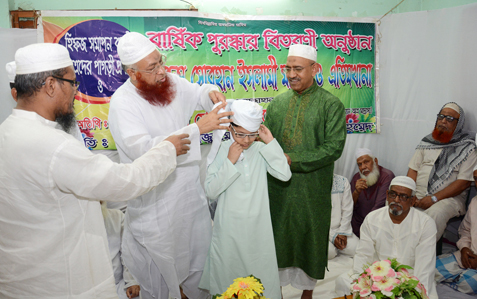 Abdus Sobhan Islami Madrasa and Raman Bibi Mahila Islamia Madrasa on Thursday arranged a programme to celebrate the credential of 14 students through discussion on Quran and hadith, reading from Quran and other Islamic religious scriptures. The students, who became 'hafiz' meaning master in Quran, were awarded turban and burqas.
Founder and Chairman of the institutions Al-haj Mohammad Mosaddak Ali, who is also the Chairman and Managing Director of International Television Ltd. (NTV), put turban on heads of the male students while his wife Mahbuba Sultana and their daughter Roza Ali at another venue gave burqas to women students on Thursday evening at Shahjahanpur area of Dhaka. Mufti Mahmudul Hasan was present as the special guest at the event.
Presided over by Md. Alfaj Uddin, elder brother of the founder of the madrasas, Principal Maulana Abdul Gaffar delivered the inaugural speech. Hafiz Al Amin, a teacher of the madrasa, facilitated the programme. Present at the event were family members of the Md. Mosaddak Ali, governing body members of the madrasas, and well-wishers of the institutions.
After reading from Quran and other religious scriptures, nine male and five female students who became 'hafiz' in 2016/17 academic session, were put on turbans and burqas respectively.
Male students who became 'hafiz' are Fahad Hossain, MD. Abdullah, Delwar Hossain, Md. Abdus Sattar, Suman Miah, Md. Jahirul islam, Rashed Hossain, Rezaul Karim, and Md. Zubayer.
Female students who became 'hafiz' are Umme Habiba, Khadija Tabassum, Sadia Sultana, Mariam, and Sadia Islam.
After handing over awards to meritorious students of the institution, Md. Mosaddak Ali pledged helping the students.
He said, 'Muslims across the world are victims of false accusation. Islam has been distortedly presented before the world. Students' duty would be learning true essence of Islam and presenting it accordingly before the common people across the country. This will suffice the goal of the institution and held its reputation high.
'If madrasa is the garden of heaven, then students of this institution are the flowers of that garden. I believe, these flowers will shower fragrance', he added.
Mufti Mahmudul Hasan said, 'I hear people talking about this madras wherever I visit. I'm happy to learn that students here are given proper Islamic education.'
He wished prosperity of the institution.
Maulana Abdul Gaffar in his speech said, 'The institution started its journey with only two teachers in 2003. From next year, there was continuous addition of both faculty members and students. Every year on an average, five students become hafiz since the launching of the institution. A total 61 students become hafiz. Among them, six are women.'
The programme ended with a prayer.